Our first three days were spent in Malcesine on Lake Garda, a charming town built on the largest lake in Northern Italy. There is plenty to do there from boating to mountain biking but since our colds were still sucking our energy, we opted for less strenuous activities such as eating pasta, passing time in cafes with a campari and soda (Curtis's drink of choice) or a glass of prosecco (mine) and going for walks along the lakeshore. We rented two bachelor style apartments at a complex called Laura and Jasmin's – which enabled us to do some cooking and, more importantly, gave us some privacy. The previous apartment we had rented housed the four of us, living family style. Eating breakfast and dinner together every day and sharing a bathroom with my mother in law and her 75 year old friend got to be a bit much at times. There wasn't much amore going on with side by side bedrooms – not to mention the thunderous snoring emanating from Jackie.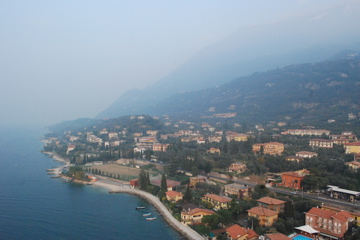 Our next stop was a brief but oh so exquisite one. We stopped in Verona to visit one of my favorite wineries – Villa Rinaldi. They don't usually do public tastings unless expecting you, but this family run winery was very welcoming and hospitable.  Cinzia, one of the daughters, let us choose three wines to taste, while telling us about her family history. How she would accompany her father to the vineyards at harvest time as a young girl or how her palate began to appreciate and distinguish the subtle differences in grape varieties or vintages.
Each wine we tasted was more delicious than the last. When the Amarone passed my lips (a grape variety I was unfamiliar with), I could understand how Bacchus (the god of wine) could call wine "nectar from the gods" – that's how exquisite this was.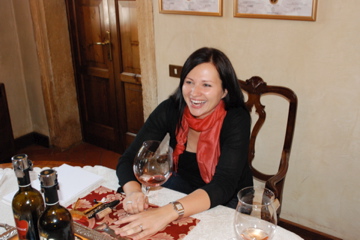 Just as we were all raving about the 2001 Rinaldi Maior Amarone Della Valpolicella, Curtis asked if we could try the Corpus Amarone Reserve wine. After a slight hesitation, she opened a bottle and, I have to admit, I fell in love.
It was like pouring liquid velvet and silk into my mouth – with flavours of cherries, chocolate, spices and dates. If wine could dance in your mouth, this one would be doing the tango.
It was so heavenly that for a moment I was going to pay the 110 euro price tag – but then I gave my head a shake and plummeted back to the reality of my bank account. The four of us purchased a bottle of the Rinaldi Maior Amarone to be enjoyed later – a mere 45 euros – and totally worth it.
All of that wine tasting whet our appetites for lunch so with bellies full of great Italian cuisine at a local restaurant, we hopped back into Lucy to continue our journey and ended up at the Ferrari Museum in Modena.
Wiping away the drool after admiring dozens of beautiful machines, we managed to tear ourselves away from the cherry red Ferraris and continue to our destination of Parma.
Curtis and I had read a John Grisham book, Playing For Pizza, that was set in Parma and had the most tantalizing descriptions of the mouthwatering food. So we were keen to go.
Arriving after dark and finding all the hotel rooms either booked or insanely expensive, we stumbled upon something in our price range – a hostel.
 The only room available however, was one with two bunk beds. While the thought of a real honest to goodness pajama party had Dagmar filled with schoolgirl glee – this prospect felt like the cherry on top of my shit sundae. Because I had spent the entire day (most of it trapped in a moving vehicle) – with a 75 year old woman who was becoming more and more irritating to me. The irritation I was feeling had been building up for days. Listening to phrases such as, "look how green the grass is here" or (every two hours like clockwork), "Curtis, do you need a break?" (from driving) or, "I'm just going to move this book or open the window or blow my nose or whatever small movement I am making I feel I have to announce to the entire car." You get the point. Not to say that Jackie is not a nice person because she is. Being thrown into a practically 24/7 situation with an elderly stranger – one who has obviously grown very accustomed to constantly talking to themselves – is tough. If she hadn't been 40 years my senior, I would have (nicely) asked her to shut up. Since I could never speak to someone her age like that, all of my animosity boiled inside of me, festering like a pot of cheese fondue.
And now I was stuck bunking up beside her.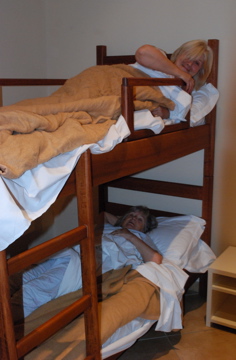 Which turned out to be a good thing because the four of us went out for dinner and had a lovely time. That Parma ham is so good, no one could feel anything but giddy after the first bite.
Upon a recommendation from the hostel, we had chosen a nearby restaurant with a family vibe. Checkered tablecloths, jugs of wine and filled with locals – it was the perfect spot.
While Curtis and Jackie both ordered a pizza, Dagmar and I had the calzone. Which is nothing like any calzone you could possibly eat in North America. Unless you're Italian and your grandmother is visiting from the old country and makes it for you – then maybe.
It arrived filled with Parma cheese and Parma ham and was the size of a football. And I ate the whole thing. Every last bite. That's how good it was. Cheesy, meaty, doughy goodness.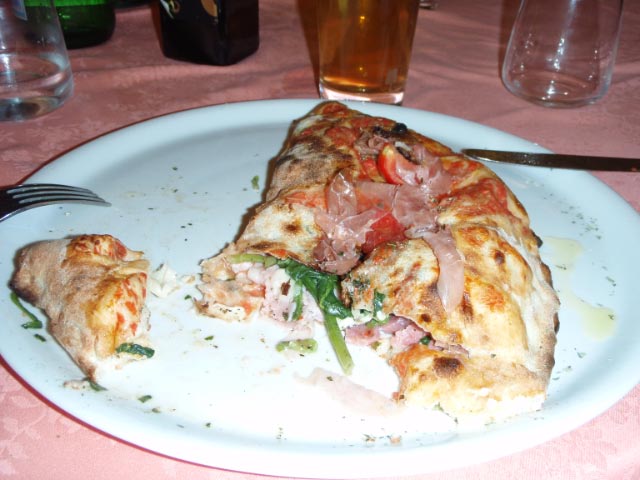 Next stop after the pajama party in Parma was a town called Lucca where we rented a house in the woods for two nights. When I say, "in the woods", I mean it. There was no way one would be able to find it on one's own. The owner had to meet us in town and we followed her Fiat Panda for many, many kilometers through the middle of nowhere until she drove to the very edge of a cliff, threw the car in reverse, spun the car around and made a dash up a driveway that was so hidden and covered with leaves that it was invisible from the direction we had come. With nervous laughter, we followed suit, and found a beautiful old house perched amongst the trees at the top of the steep driveway. If we hadn't had a GPS, we would never have found our way back to it once we left.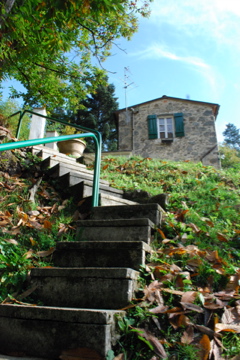 We made a day trip to Cinque-Terra, which consists of five colorful towns built into the cliffs along the Mediterranean Sea. It's a beautiful spot, especially when the sun is shining – but it was one day when our luck with the weather didn't last. The rain was so intense that there was no hope of staying dry – or of hiking the trail connecting the towns – because it was just too slippery and dangerous. After exploring the first town, we hopped on a train to the last town, getting a slight taste of the scenery from our rain-splattered windows.
Surrendering to the fact that we were going to get soaked, Curtis and I walked around exploring and even cheered on one brave soul who was determined to take a dip in the sea – who turned out to be Canadian.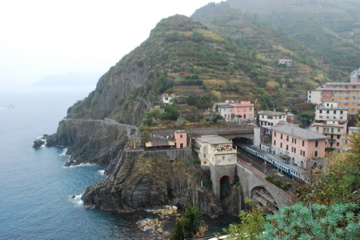 Losing track of time and realizing that we would have to run back to the station to catch our train, we sprinted back only to find our train was delayed. After waiting for almost 30 minutes, a train approached with an announcement in Italian and the four of us boarded, assuming it was ours.
When it whizzed by our stop without stopping, we found out it wasn't.
Luckily the next stop wasn't too far out of our way and didn't cost too much to get back. We made it back to Lucy before getting locked into the parkade and wound our way back through the rain slicked mountainous road to our house in the woods.
Next up: Pisa & Tuscany!