We spent 3 nights in Salzburg, Austria at a B&B. The houses in Austria are so big that practically every one you pass has a sign outside showing zimmers (rooms) for rent. The one we stayed at was on a farm, which was home to cows, ducks, chickens, a very cute donkey, super friendly goats and some entertaining sheep. Watching the sheep race around playing their version of tag from the comfort of our sunny balcony never got less amusing to this city girl.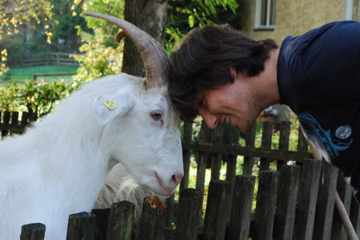 Every morning the usual huge spread of breakfast delights was served and the eggs were so fresh that one morning there were only two – since that was all the chickens had laid that day.
Highlights from the birthplace of Mozart included a bike ride through country trails alongside a canal (perfect for dipping your toes into) with the backdrop of the majestic Alps always just a glance away. A visit to yet another castle, where we got to try our hand at puppetry (turns out that Curtis is a very good puppet master) and window shopping at unique stores like the one that sold thousands of hand painted decorative eggs.
 
Unfortunately we caught Dagmar's Canadian cold on our last day, which seemed to get progressively worse and lasted about a week. Our next stop was 3 nights in Innsbruck -which Curtis and I didn't see much of – until we stopped there again on our way back from Italy.
Innsbruck is a charming town filled with colorful old buildings and weather warm enough to enjoy a meal outside – at the end of October! Until you take the funicular up the mountain and get to the top of the Austrian Alps – it's cold and windy up there with traces of snow – and breathtakingly beautiful.
 
We hiked for hours on the Alps and came across a herd of grazing goats, who soon fell in love with us. The bells around their necks jingled a magical little tune and when it was time for us to leave, the jingling followed us for quite a ways as they trotted after their new friends, trying to follow us home.