First stop on our way to the Tuscan villa: Pisa!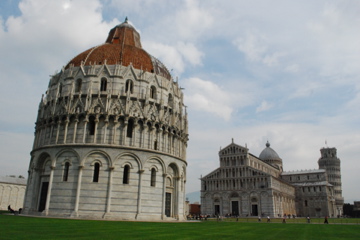 The Leaning Tower of Pisa was intended to stand vertically but it began leaning shortly after construction in 1173. The height of the tower is 55.86 m (183.27 ft) from the ground on the lowest side and 56.70 m (186.02 ft) on the highest side and well, it just looks neat!
 
Due to the long line up, we opted not to climb the 296 stairs to the top but chose instead to wander around, marveling at it's beauty from below.
Then it was time to hop back into Lucy and continue our drive to the Chianti region in Tuscany where we had a villa booked for the week.
 We were greeted by the sounds of a thumping bass when we arrived at Il Paggino in the late afternoon. Turns out the owners were having a big party to celebrate the end of a successful season (our week was the last one until they shut down for the winter) and they were testing the sound system. They invited us to join the party – which we did after our pasta dinner and two bottles of wine…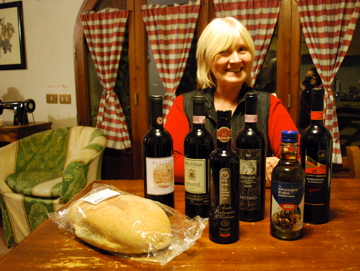 Eleanora and Francesco were such friendly and fun hosts and we had a blast joining them and their friends for our first Tuscan style party. Which consisted of vast quantities of delicious food, Chianti, a massive bowl of sangria, karaoke and of course, some dancing.
 After a day of recovery (too much sangria for me!), we took a day trip to Florence where we took in the sights and sounds of this lovely but tourist crowded city. Sitting on the steps of a church on the edge of a typical square, we reveled in the rays of sunshine while enjoying the music of a band. This was a much needed reprieve after we had somehow managed to drive into the city – a stressful experience of one-way-much-too-narrow-maze-like-streets filled with pedestrians who are in no hurry to get off the road despite the appearance of a car.
Florence is a great city to walk in – avoid driving there at all costs! (Parking can be found on the outskirts). Besides the Statue of David (which is a must see!), there are some really cool buildings to admire.
A day trip to Sienna was also on the agenda.
One day, after Curtis dropped the ladies off in Radda in Chianti (the nearest town to our villa), we headed off in the opposite direction and visited the charming little town of Volpaia.
It was here that we discovered the gastronomical delights of truffle pasta and wild boar. You can read all about our exquisite dining experience at La Bodega on Curtis's travel blog.
Another highlight of our Tuscan experience was the truffle cheese – what a combo! I had read an article about truffles before we arrived in Italy and found out that at one point, truffles were being sold for more than the price of gold per pound! Which only made me want to try them more. They did not disappoint.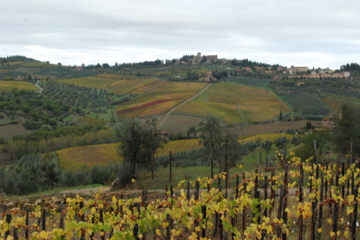 Unfortunately when we returned from our eating orgy, we found out that Jackie had taken a spill while walking on the side of the winding road – and broken her arm and ankle. Which meant an all day trip to the hospital on our final day in Tuscany and one passenger sporting a couple of casts on our two day drive back to Frankfurt.