We arrive in Airlie Beach and besides the soothing sight of the ocean, experience a little culture shock. Coming from life in the outback, the very touristy beach side town of Airlie is overwhelming.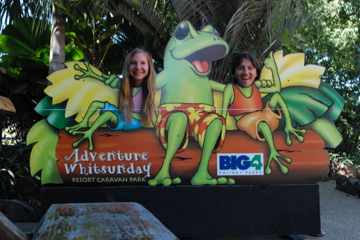 We park our van and don't have to pay as a friendly Aussie gives us the time remaining on her ticket. (Aussies are like that – they'd rather help each other out than worry about the rules – which seem to be rather bendy here anyways). After hitting the tourist info booth to line up our Great Barrier Reef excursion, we set off to check into a campervan park. I guess we picked the deluxe one this time because it has free mini golf, a pool with waterslides, tennis court and a jumping pillow (besides the usual amenities of showers and outdoor kitchen). It's a great place for kids.
After a couple of days of hard driving, we take full advantage of the facilities and spend our first day enjoying the outdoors (a run, the jumping pillow, the pool). A short trip into town for fish and chips on the beach and then its back to the campervan park for a game of mini golf and a relaxing evening.
The next day we get up early for our reef trip. Whitehaven Express comes highly recommended and we soon find out why. Our $140 (for both) gets us transportation to/from the boat and eight hours of fun. The boat is full and we meet a couple from Toronto who are traveling the world as well, along with a bunch of Aussies who are super friendly. One of the older ladies playfully slaps Curtis when he pronounces "tomato" tomato instead of "tomahhh-to".
Our first stop on this cloudy morning is snorkeling at the reef. Hesitant to gear down and jump into that cold water (it is winter after all), I give myself a pep talk. I'm not going to act like a grandmother and take the comfort of the glass bottom boat – I can't come all the way to Australia without snorkeling at the Great Barrier Reef – twenty degree water or not. For the first time ever, I actually wish I weighed 20 pounds more, then realize that wishing for a wetsuit is a more practical way of keeping warm. In just my flippers, mask and bikini, I jump in. Curtis has been waiting in the water for at least 5 minutes by now – he's always the first one in when the ocean is involved.
The snorkeling here is more amazing for the variety and size of the coral rather than the fish. The fish are actually the same ones we saw when we snorkeled in Thailand. I'm thoroughly enjoying myself when I start to realize just how cold I am. A bunch of us must have felt the cold at the same time because there is a sudden surge of swimmers towards the boat. Covered in goose bumps and shivering I make my way to the upper deck where the sun has blessedly appeared and try to warm up with the other shivering girls. We chat and sun ourselves – Curtis arrives about 15 minutes later – with blue lips! I told you the water was cold!
Tea, coffee and biscuits are served as everyone dries off and changes back into warmer clothes for the boat ride to the whitest of the white sand beaches. The sand here is like flour. Really. Just amazing!
We enjoy a delicious Aussie barbie on the beach of steak, bangers (sausages), spicy burgers, salad and fruit. Six weeks in Australia and this is our first bbq. Crazy when you consider that coin operated bbq's are found throughout Australia at all of the public beaches and parks (I so wish we had this at home!) Our bellies full, we wander the beach, soak up the sun and just enjoy.
Continuing on our journey, we head towards the perfect spot for a hike to a lookout that brings the most breathtaking view. It's the Whitsunday Islands in all their turquoise waters and white sand glory. I don't want to leave but tear myself away from the beauty when it's time to head back to the boat.
Back on the boat, as we wait for the rest of our tour group, we spot a few big sea turtles swimming by. Everyone is excited and tries to take their picture when we spot a huge manta ray. That manta just glides through the water – looking very graceful – when the captain of the boat announces that he wishes we would see a shark.
Shark? No, I really don't want to see one. Not even from the safety and comfort of our boat – definitely not. I voice my opinion before I can even think of it – the words just tumble out of my mouth, "I don't want to see a shark."
"Not even from the boat?" asks one of the girls. "No," I reply, "I was afraid to use the toilet after seeing Jaws." I forget to mention the fact that I was only eight. Oh well, I'll never see any of these people again.
In the silence that follows, the rogue captain pulls up his sleeve to reveal the scar across his arm where he was bitten by a shark in the very same spot that we were snorkeling in mere hours before. My heart stops, the urine trickles down my thigh….no, not really! But I'm sure glad that he neglected to share this little tidbit with us earlier or I definitely would not have braved that icy water. Cold I can handle. Sharks I cannot. Jaws has ruined me – the terror has stayed with me to this day.
While our captain was spear fishing (in the very same spot that we were snorkeling in a few hours ago!), a shark took a bite from his arm and spit it out (wet suits and human flesh don't taste so good apparently). I'm not sure if it was revenge that made the captain wish we would see another one or something amusing that would scare the tourists but whatever it was, I'm sure glad we didn't see one!
On our boat ride back to the harbour, they served us cheese and crackers (I really could have used a drink after that shark story) and one of the Aussies that we befriended invited us for dinner. We had gotten to know her and her two daughters, who were on holidays from Brisbane. Her husband had been out fishing while they were snorkeling and she invited us to come for a fish dinner, which would have been lovely if we had been able to find where they were staying. Armed with only the name of the place (which no one we asked had heard of), the fact the building had big waves on the roof (which we couldn't see in the dark), unable to remember the street address and with no thought to getting a phone number, we were forced to settle for very mediocre Mexican food.
Although it was a little disappointing not to end such a wonderful day with an Aussie dinner with new friends, our stay in Airlie was great. We had survived without a single shark incident to boot.
After Airlie, our next destination is Mission Beach. We can't resist stopping at The Big Mango for a photo and some delicious mango ice cream.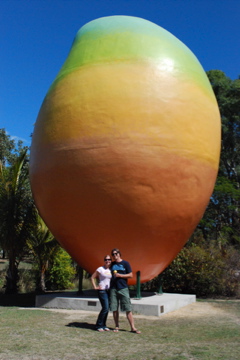 We drive for five hours to meet up with Christine. Christine and I were roomies years ago and think of each other more like sisters (me being the older and wiser one only because she's younger). She has been traveling around for 8 months by herself, hitting Asia and then Australia a few months before us. It is so great to see her! We spend the first night drinking wine and sitting around outside at her hostel chatting with her, a few Scots and a few Brits.
Mission Beach is a small town with two campervan parks right across the street from each other. One of them charges $34 a night and the other only $12.50. The cheaper one sits right on the edge of the beach where we can view the waves right out our back window.
While in Mission, we take long walks along the 14 kms of sandy beach, one walk that takes us on a short hike to a lookout point before the three Canadians tire and return to the town pub where we consume burgers and many pitchers of beer. We are Canadian after all.
On the hike, we came across some red green ants, which Christine said tasted like lemon if you lick their butts. I thought she was joking until she picked one up and licked it (and this was before the beer!) Curtis tried it as well but I did not. Apparently they really do taste like citrus but I guess I'll never know for sure.
A fun few days in Mission Beach spent catching up and relaxing, Christine joins us in our campervan and the three of us set off for a mini road trip up to Cairns.
Along the way, we pass the Sugar Museum and decide to stop. After days of driving through sugar cane fields, we are drawn to the museum dedicated to the sweet stuff.
Actually we pass Cairns and hit Port Douglas for lunch and a walk on their beach before going back to Cairns to spend a few nights with our Aussie friend Ryan. The drive along the coast during this stretch is magnificent.
As the Aussie portion of our trip comes to a close, we look forward to our adventures in Europe. But first, a few days in Singapore.