As I sit in a flat in France and write about our road trip in Australia, I just have to pinch myself. This is my life – at least for another 6 months anyways. As we approach the half way mark of our one year trip, I reflect on how lucky I feel to have been able to do this. I wouldn't trade these experiences for anything. And as much as I'm dying to rave about our first few days in Europe, I have to share the adventures of our last 2 weeks in Australia first.
As we drove out of Sydney, our campervan adventure plan was to head into the outback (or as close as we can get) before heading north up to Cairns and the Great Barrier Reef. We took the Inland route and drove about 500 kms before bunking down just outside of Armidale at a rest stop.
Our first sleep and we freeze! The bedding that comes with the van consists of two sheets and two very thin sleeping bags. We sleep in our warmest clothes spoon style so that one side of my body is warm and the other is cold. When the cold wakes us, we know it's time to turn over to heat the other side. At one point we start the van and blast the heater – which lets us sleep for a few hours. Later that day, we find out that the temperature dipped to minus 9 degrees – no wonder we were so cold!
I woke up the first morning to what can only be described as UFO noises. It sounded very similar to the scene in Close Encounters of the Third Kind when the aliens communicate with the humans through the organ sounding tones. In that moment before I was fully awake, I felt pissed off at the thought of sliding the curtains aside to be confronted with a UFO because I felt too sleepy to deal with it.
Once I was officially awake of course, I realized it was a magpie bird making those strange sounds. I referred to them as the UFO birds before learning their real name – which the Aussies affectionately call the maggies.
Before setting off on our second day of driving, we made coffee and oatmeal on our gas stove, did some jumping jacks (it's so hard to stay fit while you're traveling!), brushed our teeth and hit the road.
After driving for several hours we came across a winery called the Thomas New England Estate Winery and decided to pop in for a little tasting. Our little tasting turned into a two hour visit with one of the owners (daughter Leigh who runs the tasting room/wine shop – it's a family owned winery). We sampled all of their wines from the sparkling to the port and shared a fantastic little cheese tray while learning all sorts of fascinating things about wine, Australia and the local gossip.
Their sparkling white is my new favorite but unfortunately you can only buy it in Australia. I had to restrain myself from purchasing more than one – which we enjoyed later that night in Morree.
We stayed at the Gwydir Park Caravan Park – on the recommendation of Leigh – and enjoyed soaking in their natural hot springs. It was just us with a bunch of retired traveling Aussies and every one of them were so friendly and had all surprisingly been to Vancouver and loved it. We traded travel stories until our fingertips were sufficiently wrinkled from the hot water – then made our way back to our van where we had our ice cold sparkling white with our home made (well I guess technically it was van made) version of chow mein (Mr. Noodle and veggies).
We made it to Lightning Ridge the next day which is a town known for it's opals. People from all over the world settled here to try and make their fortune. In the video we watched after our mine tour, one of the locals said, "Today's biggest asshole can be tomorrow's richest resident." No one knows just how many people live here, because they refuse to answer the census.
Our first order of business is to visit the Bottle House. Arthur and two of his mates built this house 45 years ago, because "there was nothing else to build it out of." Arthur and his wife lived in the house for years before adding on to it and turning it into a museum. Arthur came here for the opals, but never did strike it rich. We meet him on the day he retired – from working at the bowling alley. He is a wealth of knowledge on many things and we enjoy our tour of the museum with him.
Arthur recommends the perfect spot for us to watch the sunset that evening.
While waiting for the sun to go down, we explore the area – which has all sorts of old mine shafts – and come across a now decrepit house made out of beer cans.
And then we see our first outback sunset.
We spend the night at Lorne Station – a privately owned 10,000 acres out in the middle of nowhere – which is a great campervan park with a fire pit, indoor kitchen (and tv room) and very clean showers. All this for only $12 a night! Over our dinner of tuna mac and cheese with veggies on the side and two bottles of red wine, we have a delightful conversation with Gary. An Aussie who is taking a break from work and caravanning on his own for a few weeks. After a great night's sleep (no longer freezing to death!) we head out to get in a quick mine tour before trying to make another several hundred kms towards the coast.
By now we should know that there is no such thing as a quick visit with anyone Australian. They are always so friendly and up for a chat.
We head underground for the first portion of our tour – it smells divine down there. The smell of the earth is wonderful.
After the underground tour and a video, we watch some earth get pulled up and are allowed to fossick through it. Fossicking is what they call looking for opals – and anything we find we get to keep.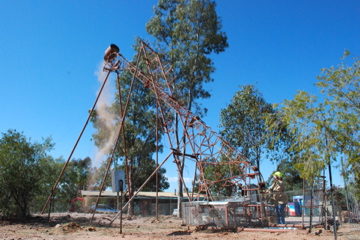 Of course the little bits of opal we find aren't actually worth anything – but it's still exciting to find one. A shiny bit of color gleaming out from the dry rock.
When our tour finishes, we have coffee and chat with the Aussies (naturally!) and they recommend that we go to Airlie Beach. We head off and drive for 10 hours – forced to stop and rest when the gas station in Rolloston is closed at 10:00 pm.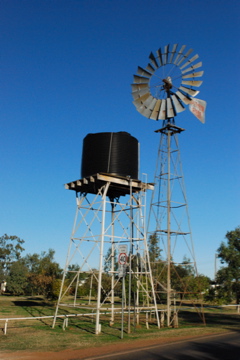 We hope to make the coast by the next day – this is a big country and we have vast distances to cover but we are determined to see the ocean and snorkel at the Great Barrier Reef.
Stay tuned….