Week two of our stay in Sydney is at the Jolly Swagman hostel.
We check in on a Saturday morning – that night while eating our dinner and sharing a bottle of Aussie wine – we find out that Saturday nights at the hostel are Centurion night. Which means we get to watch a bunch of twenty-something's drink a shot of beer every minute for 100 minutes.
It's not too long before the first contestant is puking in the bushes, but his competitive spirit has him back in the game in time for the next shot. This guy projectile vomits twice more before the other contestants make a new rule that if you throw up 3 times, you're out. I've never been so thankful for my 30-something wisdom before. A few years ago, that coulda been me.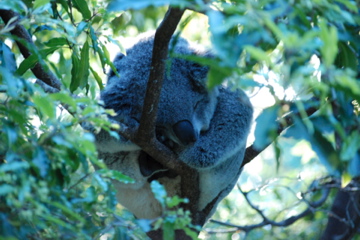 With 6 Centurions left standing at the end of 100 minutes, everyone decides it's time to hit a nightclub and we go along, wrapped up in the spirit of hostel living.
We've got our own room at the Swagman with a sink, fridge, desk and small TV. The shared bathrooms down the hall and are kept nice and clean. We make our meals in the huge kitchen and eat in the noisy dining area, which also sports an X-box. We are located in Kings Cross; a short walk to the grocery store and to the waterfront where we go for our runs along the seawall, turning around once we hit the Opera House. We spend a lot of time in the Botanical Gardens, strolling, drinking coffee, people watching. We discover a new bird or plant or statue on every visit. The birds here are so loud. And we aren't the only ones who have noticed it – we were talking to an American at the hostel who had noticed it too. The birds here don't sing – they scream.
On one afternoon stroll we realized how many bats there are. Hundreds and hundreds of them hanging upside down, wings wrapped around their batty bodies, for their afternoon nap while a few glide effortlessly through the sky. They are creepy and amazing.
We discover a store called Dan Murphy's. It's sells alcohol at the lowest prices you have ever seen. Rows and rows of delicious wine (sorted by grape variety, not country). Because they are all Australian (with a few from New Zealand and France) all at amazingly low prices. Same wines at half the cost as they are in Canada – with bigger discounts when you buy 6 bottles. I have died and gone to wine heaven. We leave with 10 bottles – seriously restraining ourselves from buying more. I am giddy.
We celebrate our one-year wedding anniversary while we're staying at the hostel. Not the most romantic place for it but we pack a picnic and stroll through the gardens, eating our lunch on a sunny patch of lawn overlooking the Opera House. Then we go for a drink at the Opera Bar – enjoying the view of the Harbour Bridge on their fabulous patio.
Wanting to go out for a romantic dinner – we search for a one online only to discover that all of Sydney's "great romantic" restaurants are so overpriced that I know I wouldn't be able to enjoy my meal. We opt for a funky dimly lit Thai place called The Opium Den instead. It's not licensed but only charges a $4 corkage fee for BYO so we've brought our own sparkling Australian wine with us and have the most delicious dinner with unbelievable service for a very reasonable price. It's romance on a budget.
For the next three weeks of our stay, we've got a furnished apartment rented in Darlinghurst. We've rented it from a girl who has gone to England for three weeks. It's a great pad in a convenient location. The only thing is, she's dirty. On day two while I'm curled up with a book and a cup of tea on the couch, Curtis emerges from the bathroom in just his jeans and pink rubber gloves exclaiming, "I've lived in dorms, I've lived in the bush, and that is the most disgusting bathroom I have ever cleaned."
A few hours later, we've done some rearranging and serious cleaning and made it ours. Our nest for the next three weeks.
Some of the highlights include the Bondi to Coogee walk, attending the opera of Don Giovanni (excellent!), having fish and chips in Manly and visiting the Toronga zoo.
We've got one week left here before we hit the road in our camper van. Stay tuned….