This post is being written poolside, surrounded by palm trees.
We've returned to Costa Rica, where the notion of our one year-around the world-flashpacking trip really started to take root. Two and a half years ago we were here on our honeymoon. Now, our babymoon.
Traveling with a 6 month old is not easy. It's definitely a different kind of trip than traveling without baby, but it also comes with some new and different rewards.
I was pretty nervous about our two flights to get here. Four and a half hours to Houston, then another three and a half to Liberia. I didn't want to be "those people on the plane with the crying baby". I was worried about the pressure on Dante's ears, his ability to sleep, our comfort in holding him for all of those hours….but I spent a few weeks worrying for nothing.
At the airport, even baby Dante got the pat down through security and once on the plane, he fell asleep before we even took off. My plan was to feed him on the ascent, hoping the sucking would alleviate any change in pressure for his ears, but with him fast asleep, I wasn't sure what to do. I tried putting a pacifier in his mouth but no luck, he wouldn't suck on it. I tried feeding him while he slept but he wouldn't wake up enough to eat. He slept through the entire ascent and was fine. Whew, one down.
When he woke up he was happy to play in our arms and for the descent, he sipped at water whenever he seemed uncomfortable. That did the trick.
On our second flight, his ears were fine but he fussed a little so we walked him up and down the aisles. As everyone was disembarking the plane, he was smiling away and we got so many compliments on what a good baby he was.
Tips for a flight with a baby? Have a book to read to them, a toy to chew on (Sophie is a lifesaver and she's easy to clean!), some patients and a good-natured disposition. (A change of clothes goes without saying.)
At the airport in Liberia, we got shown to the front of the immigration line – one of the perks of traveling with a baby. In Costa Rica if you have a baby, you go to the front of the line for everything. I wish it were this way at home!
Curtis collected our luggage while I stood under the huge fan with Dante in the open air airport. I was chatting with some other travelers when a giant grasshopper like insect flew in and hopped around, almost landing on Dante. I'm not sure if it was my scream that frightened him off or not, but he flew away to scare someone else.
I asked an airport employee what it was called but he didn't know the English word for it and the Spanish one sounded like "ghost", which must translate differently.
We spent our first night at the Hilton Garden Inn, an awesome hotel with super friendly and helpful staff. They have a free shuttle to and from the airport, a huge pool and great breakfasts. Dante didn't sleep very well on our first night in a strange place, waking often for comfort. He still managed to charm everyone at breakfast the next day with his huge smiles, despite the lack of sleep.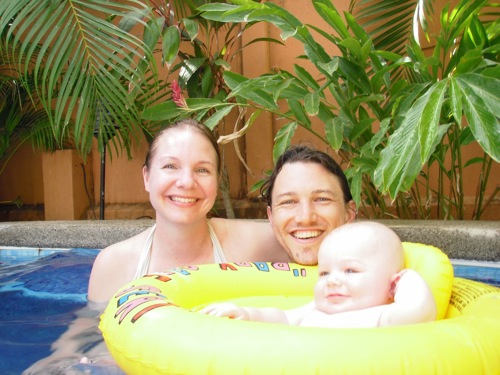 Curtis went to pick up our rental car (Alamo, again with a free shuttle) while I bathed Dante and got us ready to go. Somehow he managed to fit everything into our small car (stroller, two big suitcases, diaper bag, carry on bag, pack and play, guitar) – we definitely ain't traveling light on this trip – and headed for Samara.
Dante slept for the two hour ride, waking up refreshed at our destination – Entre Dos Aquas. We stayed here for 3 nights on our honeymoon so it was neat to return with baby. Dante loved the pool, hanging out in the shade in the hammocks – even taking a nap in one! But what he didn't love was the heat. Our room only had a fan, no air-con, so close to midnight out of desperation, Curtis took him to the car and cranked the air-con. He finally fell asleep but it was a rough night with many feedings and fussing. Day two he seemed to acclimatize and we were back to a more normal sleep schedule.
We spent the next couple of days in the pool, at the beach or in a beach side bar sipping cold drinks. Then we got in our rental car for the short and bumpy ride to Playa Guiones, where we'll reside for the next month.