You can't help but be excited about Paris – at least I couldn't.
Paris is one of those cities that captures the imagination. Just like New York, Paris is portrayed in films so often you feel like you know it before you've even arrived.
We both expected that we'd fall in love with Paris immediately. I imagined being able to gaze up at the Eiffel Tower while sipping coffee at a cafe (any cafe – because in my imagination the Eiffel Tower could be seen towering over the city from anywhere), watching well dressed Parisians stroll by.
This was not so. Not only were the fashions disappointing (although to be fair, half the people we saw were probably tourists and not actual Parisians), but we had to walk forever along the Seine before we caught our first glimpse of the Eiffel Tower. Once we did though, we were hooked.
Drawn towards it, we walked until our feet hurt. Waiting in the queue for tickets, darkness began to fall. There are three observation levels to choose from so of course we were going to go to the very top one (at 276 meters high) but just before we bought our tickets, they closed the upper deck so we were forced to be content with the view from the second deck. Which, at 115 meters, was high enough for Curtis.
While it was exciting to be on the Eiffel Tower, the hordes of people up there with us really detracted from the romance. It was much more romantic to admire the twinkling light show of the Tower from a distance as a misty rain fell.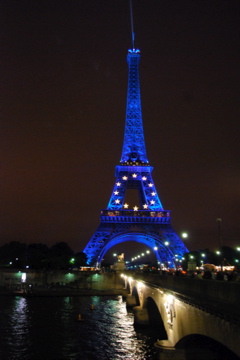 A much better way to view the city (and the Eiffel Tower itself) is from the Tour Montparnasse. It's a very tall modern looking building, not interesting to look at, but it has a roof top observation deck without the crowds. It's a much more relaxing, pleasant way to look down on Paris.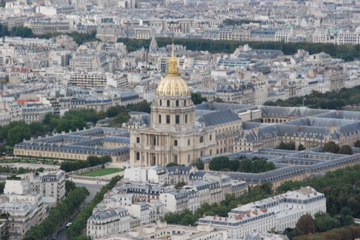 We rented an apartment in the Latin Quarter for the week, which I found on Craigslist a few months ago while waiting out a storm in Cambodia. It turned out to be a cute, simple bachelor pad type place where the sofa converts into a bed and the "kitchen" is separated from the living room/bedroom via a curtain. The price was right, the location was excellent (steps away from the freshest baguettes and pain au chocolat as well as the metro) and it had a washing machine. When you're traveling for so long, a washing machine is an exciting luxury. If anyone is looking for a self catering, safe apartment to rent in Paris, let me know and I'll give you the owner's email address.
When we were in Singapore, we were interviewed by a journalist from the Canadian Press who was doing an article on flashpacking. When she asked us for a photo "in an exotic location" to go along with the story, we knew Paris would be just the place. Since it was too far for them to send a photographer, we asked a nice shopkeeper to take a few of us outside of a cafe with our laptops. I think she did a great job! To check out the article click here .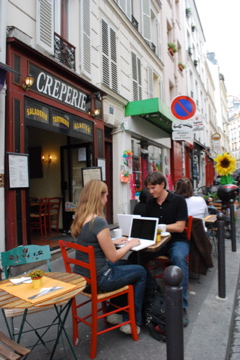 Continuing on with our tour of Paris – the Louvre is one of the most impressive buildings I have ever seen. The sheer size of it is unbelievable. It stretches for many miles and is so ornate and beautiful.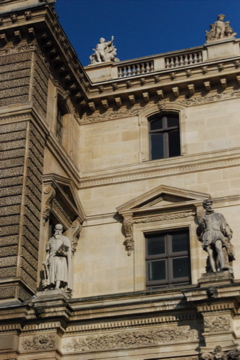 The art inside however, I found rather boring. It felt like corridor after corridor of the same painting – there were just so many similar paintings from the same era, that they began to blur together and I couldn't wait to get past them and see the piece de resistance. The Mona Lisa.
The Mona Lisa is protected by an armed guard and now sits behind glass after some bozo made an attempt to deface it years ago. The Mona Lisa was definitely worth suffering through all the boring religious era art.
The art in the Musee D'Orssay though, is anything but boring. I loved it! It was filled with paintings I could look at for hours. Some of my faves: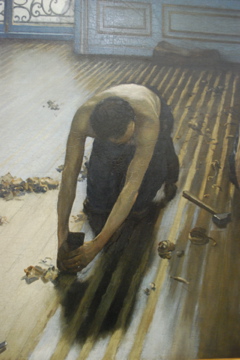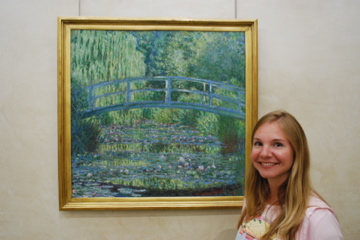 I met a young Canadian couple near the Van Goghs that I spoke to for about half an hour. Trading travel stories, it felt so good to speak to someone in English, especially people from "home" (they were from Ontario – but close enough!). Even though most of the Parisians we had encountered spoke English, it had been awhile since I'd had an actual conversation with anyone other than Curtis – and I had been there for all of his travel stories.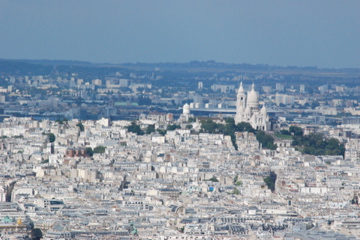 The Sacre Coeur (Sacred Heart) was one of my favorite places. There was a narrow winding staircase to the top of the dome. So narrow and windy in fact that it made us dizzy. The view was amazing of course, but it was the building itself that felt as beautiful as it looked. I couldn't help but feel a serene happiness – maybe Paris was finally getting to me and seeping into my veins. Or maybe I was just enjoying the moment. Whatever it was, the Sacre Coeur will hold a special place in my heart.
One day we made a pilgrimage to visit the gravesite of Jim Morrison. Curtis was disappointed that we couldn't pay our respects in private. His was the only site with a fence around it and with a guard. The crowd was just big enough to make us feel like part of something dirty instead of something special. I stood in the shade, away from the crowd, and watched a cat sun himself on someone else's grave. It seemed apropos somehow.
It might seem strange to visit grave sites, but the cemetaries in France are amazing – and filled with famous people. We also saw the graves of Chopin and Oscar Wilde.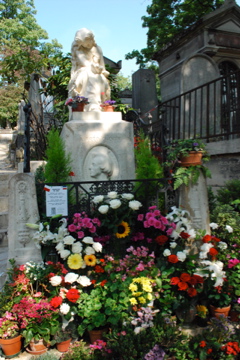 I loved all the parks in Paris – we would often picnic in them. A baguette with brie and some fruit, along with a cold beer or a small bottle of wine, became the perfect lunch. I'm not sure how legal it is to drink in public but saw so many people doing it that we assumed it was okay. A picnic really does taste better with a little red wine or a chilled Kronenbourg.
The Arc de Triomphe stands in the center of the Place Charles de Gaulle and honours those who fought for France. Apparently the best time to view it is at sunrise but close to sunset wasn't so bad either.
What I loved best about Paris was just wandering around. Sometimes we spotted the most unusual window displays that made us laugh – like this one that used dogs to model their hats and jackets.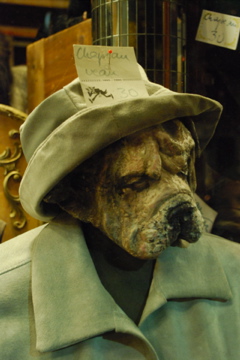 And others that made us drool – like this one of the giant chocolate pencils.
It may not have been love at first sight, but Paris definitely had it's way with us and in the end, we were seduced by it's charms. We'll definitely be back for more.