Beaune, located 32 kms from Dijon, is the capital of the Burgundy wine region where Pinot Noir and Chardonnay reign.
According to Lonely Planet, Beaune is pronounced "Bone", but whenever I said it like that to a French person, they had no idea where I was talking about until I spelled it. So it's really pronounced more like how it's spelled….which doesn't help you at all does it?
I loved Beaune. This is a town where everything revolves around wine. They've got wine schools, wine tours, a wine museum, tons of tasting rooms and a bike path through the vineyards. In nearby Meursault they've even got a spa where you can take a bath in red grapes in a real barrel or get a rejuvenating grape pulp body wrap. Unfortunately, I didn't make it to the spa (it's a fair bike ride – and who wants to ride home after a spa treatment?!) but next time…
I had a really hard time finding reasonably priced accommodations in Beaune so when I finally found the Stars hotel, I was ecstatic. And a little apprehensive. Because it's only a one star hotel. But then I thought, "How bad could it be?"
We have stayed in some very basic bungalows along the way and I now know that I could put up with pretty much anything for a week. (I was never worried about Curtis, he once spent 6 weeks hiking and camping the Pacific Crest trail, which runs from Canada to Mexico). As long as the place was clean (ie no bed bugs!), it would be fine.
Well, Stars turned out to be a hidden gem. The staff were so friendly and nice (even giving us free coffee and croissants some mornings), the location was a short walk from a big grocery store and not too much further into the heart of town, it had free wifi (albeit in 20 minute increments so we had to keep logging back in), the bed and pillows were clean and comfy and we even got one channel in English on the tv. Too bad it was CNN – I've had my fill of anything to do with Sarah Palin!
If it's a luxury vacation you're looking for, I wouldn't recommend it, but for anyone who's traveling (flashpackers and backpackers), it is absolutely ideal (and a steal at 36 Euros per night!). The shower is a little small, larger people would have trouble squeezing in and out of it, but we even found that with the turnstiles at the Metro in Paris. Although our packs make me look like a pregnant camel (I've got the front pack and the backpack) and make Curtis look like a giant turtle.
Now back to the magical place that is Beaune.
On our first day, we went to wine school at Sensation Vin. This was an excellent way to begin our week because it gave us some basic knowledge of the region. In Burgundy, they've got four classifications for their wine. Regional, Villages, Premier Cru and Grand Cru. The grapes for the Grand Cru come from the middle of the slope of the best vineyards and the Premier Cru grapes come from the top and bottom of the slopes. The Villages grapes come from the flat areas and the Regional grapes can come from anywhere, as long as they are within the region. The two main varietals here are Pinot Noir and Chardonnay but they also grow Gamay and Aligote.
While learning all of this, we sampled six wines, 3 white and 3 red, as our palates were able to start distinguishing the differences between the classifications.
On my favorite day in Beaune, we rented bicycles and rode them through the vineyards from village to village. There is a great paved (and marked) bike path that makes it easy, and it is so beautiful being amongst the grapes. Of course we picked a few from the vines to taste. Conclusion? Yummy!
We cycled from Beaune through Pommard and Volnay to Meursault where we stopped at Ropiteau Freres for a tasting. Florent, whom we rented the bikes from, had suggested a few good places to stop and this was one of them. He even told us who to ask for.
Before our free tasting, we were able to check out their caves. We walked amongst the barrels of aging wine while the smell of stone, wood and fermented grapes filled our nostrils before emerging back up into the sunshine, ready to quench our thirst.
We sampled several wines and one crème de cassis, which Regis told us was what most French youths drank on the night they lost their virginity. It tasted like blackcurrant and is a common aperitif. We left armed with two bottles of their sparkling white and reluctantly hopped back on our bikes for the return ride home. Which was surprisingly easy after our tasting.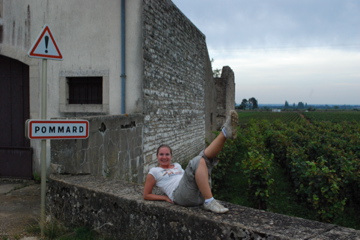 The two specialties of Burgundy are Coq au Vin and Beef Bourgogne. When we tried the beef, it was delicious, but we obviously ordered the coq au vin at the wrong place (never order a local specialty at a restaurant that obviously specializes in pizza). All of the other meals we had in Burgundy were delicious (including my first encounter with escargot!) When in France, order the house wine and you'll never be disappointed.
There are tons of places to taste wine in Beaune, from the Petite Cave (small wine store owned by a wonderful local woman who was eager to share the delights of her region with us) to the Marche Aux Vins. This is a must see!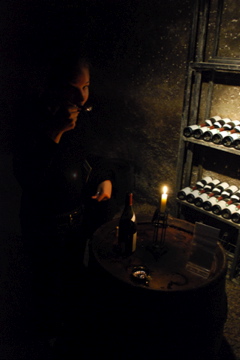 Most of the tastings are free (with the expectation that you'll buy something you like) but the Marche Aux Vins charges 10 Euros per person. You receive a small silver tasting cup (yours to keep!) and go on a self-guided tour through their cave where you taste 15 different wines. The first three are white and the remaining 12 are red. The wines get increasingly tastier (and more expensive), the further along you go.
This is the way to taste wine. You are in a dimly lit cave and as you make your way through, you pour yourself "a taste" at each station. The "station" consists of a barrel, lit by a candle, with an opened bottle or two. After the underground portion, you climb some stairs and enter a beautiful high ceiling stone room, adorned with paintings and awash with dozens of flickering candles.
We left the tasting with the second best bottle of wine they had (no way could we justify splurging for the best), with a great buzz on and went in search of some dinner. It's not the best idea to shop for dinner after that much wine – our judgment was definitely impaired because we ended up with one huge duck and pork filled pie (so disgustingly delicious!) and three pretty pastries. The next day we stuck to fruit and yoghurt and salad in an attempt to make up for our gluttony. (Watch for a future post on keeping fit while traveling – there is much more piglishness to come.)
When we weren't drinking wine, riding through vineyards or eating snails, we were wandering the cobbled streets of Beaune, often getting lost in its labyrinth – delighting upon new discoveries.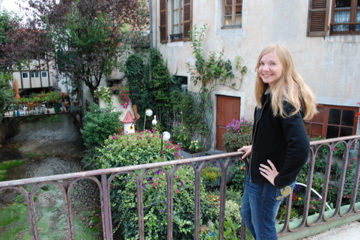 We also spent time at the wine museum, which was interesting and educational.
Our week of everything to do with wine eventually came to an end and it was once again time to hop on a train. We had a brief stop in Dijon where we were too late for lunch (most restaurants in France close between lunch and dinner and most everything else closes for lunch). The owner took pity on my obvious hunger and made us some sandwiches, while the other diners finished their three course meals and coffee and went outside for a group smoke.
A short visit to the garden across from the train station and we were back on board – bound for Marseille and the Mediterranean.