We got to Bali with Air Asia where we got sit wherever we wanted (at the very front on the way back!)
We spent our first two nights in Bali in a quiet little beach town called Sanur. Our room was absolutely huge, the marble bathroom alone was bigger than some places we've slept. The town had some nice little restaurants but the beach wasn't exactly what Curtis was looking for.
Our Lonely Planet had said that Sanur's beach was among Bali's best but after seeing it, I wondered how they came to that conclusion. If they meant the best beach for walking along the promenade (while avoiding the touts) or best beach for fishing (tons of locals were thigh deep in the water with their fishing rods), then they were right. But it was not a surf beach or even a good swimming beach so we headed to Kuta on day three for the real waves.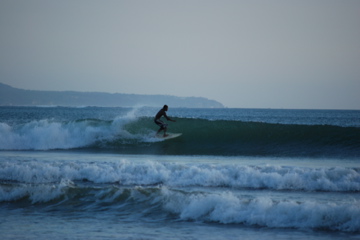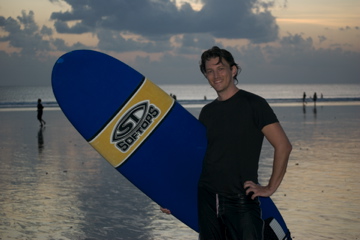 Kuta was a very touristy town. There were heaps of people everywhere, especially at the beach. We stayed at a place called the New Arena Hotel which looked really lovely and fancy from the outside and the rooms were nice too. We had prepaid for 3 nights upon check in. We had met a couple on the bus from Thailand to Kuala Lumpur and we ran into them at our hotel.
Our first night in our room, we discovered big fat black bed bugs. We killed about 10 of them (which were filled with blood, having just munched on Curtis) but soon realized that our mattress was infested and there was no way we would be able to sleep on it. We summoned the guy from the front desk who came to our room to investigate. He told us that the hotel was full but that he could bring us a new mattress. This was about 1:30 am and by 2:00 am after he and another guy had lugged our old mattress out of the room and a new one in, we discovered that the new mattress was infested with the disgusting little creatures as well.
Curtis suggested that we bring up some lounge chairs from the pool and sleep on those and that was when it came out that there was in fact another room available but it was a "superior" room and since our original room was only a "standard" room, they wanted us to pay twice as much.
Up to this point I had been sleepily sitting out on our 3rd floor patio trying to read and stay awake while waiting for the bed bug incident to get cleaned up. After hearing this utter bullshit I snapped. I'm not sure if you've ever seen me really tired but it is not a pretty site when something is standing between me and my beckoning bed of sweet dreams. I came in from the patio and proceeded to lecture the poor guy about customer service and how no where else in the world would they dream of asking you for more money to sleep in a room that was free of bed bugs. I explained that it was the middle of the night, that I was tired and there was no way I was paying more for the "luxury" of sleeping in a room on the ground floor by the pool as opposed to one on the third floor. Frankly, he looked a little frightened when I was finished and said that we could sleep in the "superior" room and talk to his manager in the morning. Curtis left to go inspect the new bed, came back to report it was free from bugs and we moved our stuff down there and finally got some sleep. Our new room was in fact, almost exactly the same as our old room. Our old room was actually a little bigger and had a queen size bed but this new "superior" room had 2 single beds (which we pushed together of course).
The whole bed bug fiasco forced us to sleep in and miss the free breakfast which was included with the price of our room (standard practice in Bali). We were prepared for a big fight at the reception desk but they actually apologized and said no problem about changing rooms.
That night after a day at the beach and dinner and a movie at an open air restaurant that showed free movies on a big screen, we headed back to our hotel to find a pool party in full swing. It was after midnight and the pool party had moved from the water to pool side where the music blared and European and Aussie surf types entertained us with their renditions of Hotel California (now changed to "living it up at the Hotel New Arena" and other clever parodies. This was a step up from their earlier pool shenanigans when there was a group of 8 or so European guys all in a group hug in the pool singing some kind of team song. Needless to say, it was another late night….of course missing breakfast again.
Kuta had lots of cheap places to eat with great food but I was sick of the young party vibe (especially the one that happened right outside our door) and ready to see the rest of Bali. We rented a jeep for $12 a day (including insurance!) and set off with our maps to explore the rest of the island.