Included in our stay at Rosy Guesthouse was a pick up from the airport. It was very exciting to see a man holding a sign with my name on it.
Our tuk tuk drive was pleasant although a little dusty and our first impression of Cambodia was that it was a peaceful, beautiful country. It just had a good vibe to it and the traffic was nothing like we had experienced in Thailand and Bali. But after spending 4 days in an air-conditioned, completely bug free hotel room in KL, we are back to Bugville.
We received a warm welcome from this big spider who was hanging out in our bathroom.
A few months ago, our first instinct would have been to kill. Immediately. Maybe the Buddhists were rubbing off on us or maybe we have become slightly braver from our months of travel. Whatever the reason, we decided to try and gently remove the spider from our room without unnecessary bloodshed. His as well as ours of course.
Our spider removal plan included a little wicker basket, a small plastic bag and a Time magazine. Curtis managed to get the plastic bag covered wicker basket over our eight-legged friend while I tried to slide the Time magazine between the basket and the wall without the spider escaping. We got it to the window and threw him out.
After breakfast and a nap (we had been up since 3:30 am to catch our early morning flight and arrived in Cambodia at 8:00 am), we ventured out to explore our neighborhood. We had dinner at the Butterfly Garden restaurant, which looks exactly as you would picture it. Tables scattered throughout a garden that is filled with butterflies. Best of all, the proceeds from the restaurant support local charities.
After dinner and a little wandering, we stopped for beers at a pub/restaurant in an old French colonial looking building. Seated at our bistro table a few steps up from the sidewalk we enjoyed three large bottles of Angkor beer for the low price of $4.50. While enjoying said beers, there were a host of grasshoppers, flies and some other unknown black bugs that would occasionally land on us, only to be swatted off.
And that's when I felt a little tickly on my right boob. I peered down my shirt and found a black bug in my bra! I wasted no time in getting the bug out of my bra, although in the process I bared my nipple to Curtis and anyone else who was lucky enough to see it. And I didn't care in the slightest….my motto is, "No bugs in the bra, no matter what!" That's my new motto anyways.
The next day at breakfast, Rosy's resident dog Pickle showed us what his favorite activity is: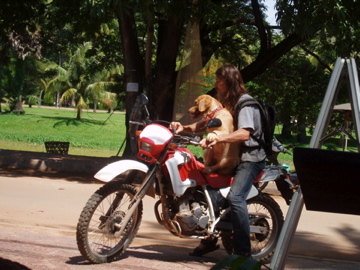 Simon is the driver of the bike and also the British owner of Rosy's Guesthouse. I would highly recommend this place to anyone going to Siem Riep – they've got great English breakfasts, free wifi, pool and other games (like Connect Four – which if my favorite game of all on this trip. Probably because I keep kicking everyone's butt!), friendly staff and spacious and clean rooms.
Next up: Angkor Wat